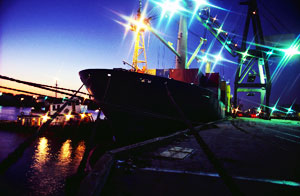 Products
References

OEM at Rolls-Royce Aquamaster
Anthony Veder
Stena Line, SLK Line
Jan de Nul
Dreding International
Great White Fleet Ltd.
Wintershall
Baltic Yachts
ThyssenKrupp Marine Systems AG
Various sailing & motor yachts and Super Yachts.
On ships, reliability of the equipment is of utmost importance. On-board repair and servicing hydraulic components at sea is costly and time consuming. Keep all on-board hydraulic, gears and lube systems perfectly clean by reoving generated dirt, absorbing wate and eliminating sludge and varnish. We maintain clean oil for diesel engines, thrusters, cranes, lubrication systems, winches and a broad range of on-board equipment.
The smallest particles < 5 micron are particularly harmful and can cause a chain reactive wear. Consequently submicron sized resinous by-products from the oil degradation process (sludge and varnish) cause additional strain to the oil system and accelerate oil ageing.
Water is very harmful. Keeping water out of the oil systems on ships is a continuous fight. Moisture and varying temperatures create ingression of condensate water.
Triple R products protect critical hydraulic systems for wharf and loading docks supportinn marine vessels.
Can be ATEX / EX certified.
Applications include:
Oil for diesel engines, thrusters, cranes, lubrication systems
Engine and generator lube oil and fuel
Gears
Winches
Propulsion systems
Stabilizers and ramps
Container Ships, Tankers, Bulk Carriers
Passenger Vessels, Ferries
Fishing Vessels
Dredgers
Work ships such as dredgers and cable laying vessels
Tugs & Barges, River Boats
Fishing vessels
Yachts