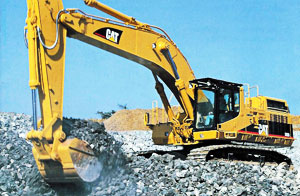 Products
Case Studies
References

Van Werven
Spierings Kranen
South African diamant mine machinery
Komatsu
Kato
Kubota
Hitachi
Konecranes
Huddig
Svetruck
Junntan
Gremo
Triple R is proud of its long and intensive cooperation with the construction machine and the mining market. Mobile machinery typically use multiple oil systems to perform demanding tasks in varied locations. Mobile units are by definition expensive equipment that must work upon arrival. Often, other processes only begin after mobile machinery have finished its job, so production stops that can delay the entire project are absolutely to be avoided.
Fluid contamination leads to slower performance, erratic operation, lost productivity, higher operating costs and catastrophic failure of mobile construction machines and equipment.
Unaddressed contaminations lead to inefficiencies with fluid, engine oil and hydraulic oil. Productivity losses can be undetected as efficiencies can drop to 20% before the operator even detects a change in operation. That is losing a day in productivity due to efficiencies each week.
Customers ask for more power, higher breakdown forces and faster cycle times, so the machinery industry is responding with more sophisticated fluid system designs, higher pressures, tighter clearances and electro-hydraulics to make mobile machinery more productive and easier to operate. However, they have also increased the need for clean fluid systems. Operators and maintenance teams now have to be concerned about dirt and other contaminants they cannot see, particles as small as 2 to 5µ. Those small particles can be the beginning of wear and efficiency loss.
Outdoor construction machinery is prone to water condensation and particle contamination in the oil. Triple R systems effectively remove condensed water, sludge, water and particles with the same filter element.
Applications include:
Construction machines
Garbage trucks
Crushers
Dump trucks
Concrete Mixer trucks
Excavators
Cranes
Drilling equipment
Storage tanks
Mills
Conveyor belts
Generators
Compressors